Published: 08 October 2012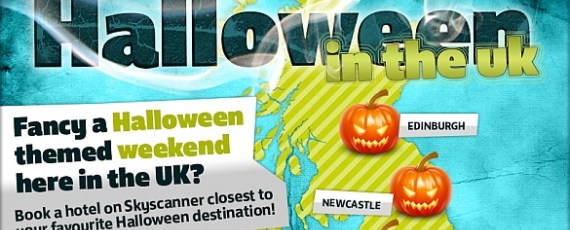 Longing for Halloween like you had it in the US? Ever wondered where the best places are to experience Halloween across the UK?
For our friends from across the pond who now call Britain home, we've put together a fab list of five places to get you into the Halloween spirit this year.
Edinburgh
Britain's most haunted city is a hive of activity at Halloween with plenty to keep even the most mischievous poltergeist happy. Check out 500 years of haunted history at Edinburgh Dungeon, with the freshly resurrected Witches Cove a must-see. Get in touch with the roots of the Halloween holiday by taking in the Samhain Festival. Finally, it would be remiss of us not to mention that scary rocker Alice Cooper plays at Usher Hall on Halloween Night. With album titles like "The Prince of Darkness" and "Welcome 2 My Nightmare" it promises to be an amazing experience!
Cardiff
The Welsh capital is home to some pretty terrifying treats this Halloween and due to its compact nature, hotels in Cardiff are near enough at hand to enable you to take a scary stroll home afterwards. Make sure to check out the Llandaff Ghost Walk, which begins with a two course Halloween Supper (If you can stomach it!). No chilling trip to Cardiff is complete either without stopping at "Britain's most haunted museum", St. Fagans, and their "After Dark" Halloween event. Walk the halls of the museum on Halloween night as you're regaled with tales of terror.
Newcastle
If you're looking for a truly supernatural experience this Halloween, Newcastle's Castle Keep is the perfect place for you. Hosting the annual HalloweenFest, Castle Keep is an infamous prison that has been occupied since Roman times, with hundreds of corpses found on the site down through the years. During the festivities, an attempt will be made to contact the spirit of Houdini, who performed at Castle Keep and died on Halloween night. Led by a real Necromancer and Witch, this is one event we're even a little scared writing about!
Blackpool
The Blackpool strip comes alive at Halloween as this seaside town becomes a centre of spooks! Historic Lytham Hall hosts an outdoor walking trail on October 30th that's suitable for ghouls of all ages, starting at 1pm. Dare you venture into the woods and brave the haunted forest? The world famous Empress Ballroom is also hosting a Family Halloween Party on October 31st at 6.30. What better way to spend the holiday than checking out the illuminations at Britain's spookiest Halloween party?
Southampton
England's scream-inducing south coast offers plenty of devilish delights this Halloween. Families are catered for at Exbury Ghost Train as it winds through pitch black tunnels led by your hosts Napoleon Bone-aparte and Batty the Vampire. For something a little less bone-chilling and a little closer to Southampton hotels, why not check out PumpkinFest? This traditional fall festival celebrates seasonal fare and is the perfect alternative to the spooky shenanigans going on elsewhere.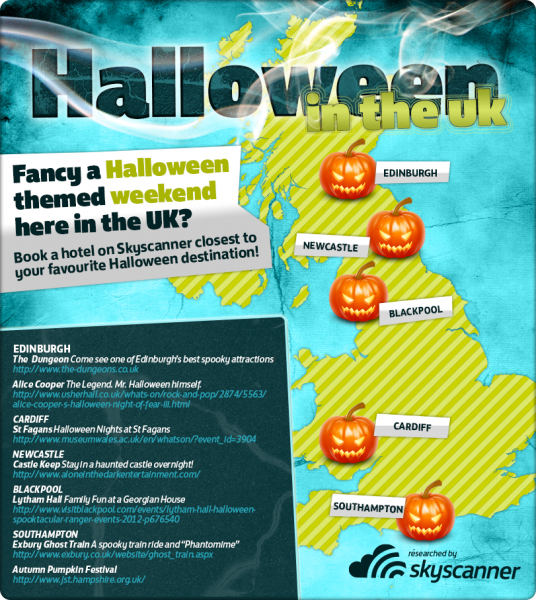 If you're looking for other Halloween-themed events, you can always visit the
National Trust
for more ideas. Happy Halloween and safe travels!
Click the image to view fullsize.
Contributor:
Contributed by Matt Smith, Relationship Executive for Skyscanner, Ltd., an Edinburgh, Scotland based Travel Search Company. Matt is a native of suburban Washington, DC and now lives in Edinburgh.