Published: 18 September 2012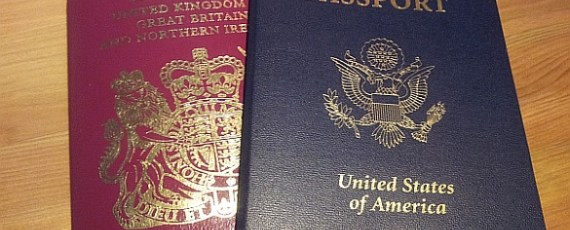 You've gotten your UK visa and are now resident in the UK, here are five expat travel tips to keep in mind when you're setting off on a holiday abroad or visiting your family and friends back home.
1. Dual national children/adults need both their US AND UK passports to travel from the UK to America and back.
When you book tickets (from the UK), use the information from the US passports and then use the US passport again when you check in to depart. On your return flight back to the UK, use the UK passports to check in. Children (and adults) who are eligible for US Citizenship must possess a US passport to enter the USA.
2. Be sure to carry the passport that contains your visa.
If you have received a new US passport and your LTE/ILR/LTR residence permit or multiple-entry visa visa is in your old passport, you need to bring them BOTH with you so that you can get back into the UK, unless you've aquired UK citizenship. You do not have to transfer the visa to the new passport, but if you get fed up with carrying extra documents, you can apply to have the residence permit added to your new passport. They will NOT do this for you at airport passport control.
One of our UK Yankee network friends had a bad experience with airport personnel in the USA (Seattle) who was not aware that having the visa/permit in the old passport was acceptable, so you may want to print the above UKBA page as evidence to carry. If this happens to you, ask to speak to a supervisor or manager until you get someone who knows what's going on.
3. Get non-accompanying parent/guardian permission when traveling with children.
If you have children and both parents aren't flying, it is sometimes required to produce evidence that these children are allowed to travel, either by court order or signed permission. This includes teenagers, as we have had a 17 year old that was almost prevent from flying with a grandparent on the US to UK leg. Here is the form that we use and the other parent signs. They may ask and they may not, probably most often not, but it's worth getting that signature just in case for peace of mind. The travel consent form we use is from samplewords.com.
4. Use the shorter UK passport control queue if you can.
If you have a residence permit, ILE/ILR/LTR, and you're traveling with family who do have British passports, even just children, you can join them in the passport control queue for British citizens when you return to the UK, which is usually a lot shorter! Of course if you've already gotten your British citizenship, you're sorted anyway.
5. Take care of passport renewals in advance of needing them.
Embassy passport services gets busy in the spring run up to the summer holidays, so lead times for appointments and processing take longer. Taking care of renewals and children's first passports early will prevent last minute panics.
Do you have more great travel tips to share? Let us know in the comments below!